Event details
Title:
Hiring the next generation: Myths & Millennials
Venue:
Yolk Recruitment 'The Shell', Anchor Court, Keen Rd, Cardiff CF24 5JW
Price:
FREE (for CDLS members & Non Members)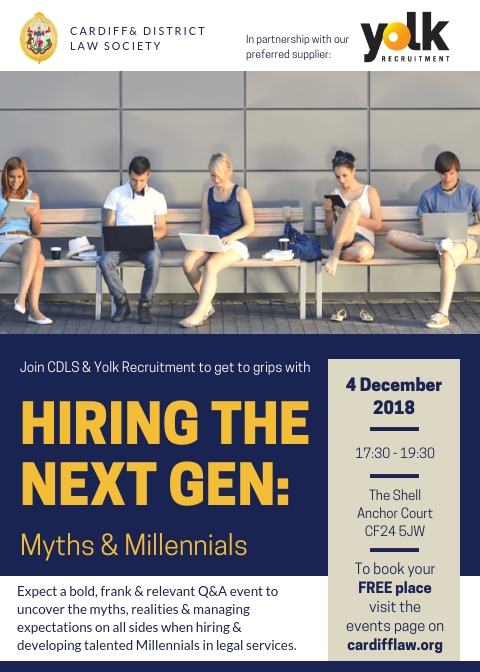 Millennials now form the backbone of junior lawyers and a recent survey found that they make up 35% of a workforce, increasing to 50% by 2020.
What is your firm doing to ensure these junior lawyers want to run your law firm in due course?
How will you keep them and promote them up the ranks?
Join CDLS & our preferred legal recruiter, Yolk Recruitment, for a quick fire evening of frank, relevant discussion about hiring the next generation of talent, managing expectations (of the firm, clients and millennials!) and hear from speakers who can offer some insights, tips and first-hand experiences.
This exclusive event is FREE for CDLS members and includes drinks and pizza so you won't go hungry and we aim to leave you with some inspiring thoughts and tips to support your developing, talented next generation of lawyer.
Join us at the stunning Yolk offices in Anchor Court, Cardiff (also known as 'The Shell') and to hear from:
Clare Good, JLD chair
Martin Pursall, Partner, Berry Smith
Andrew Barrowclough, Director, HCB Solicitors
Dale Williams, CEO, Yolk
Clive Thomas, President, CDLS
BOOK HERE: